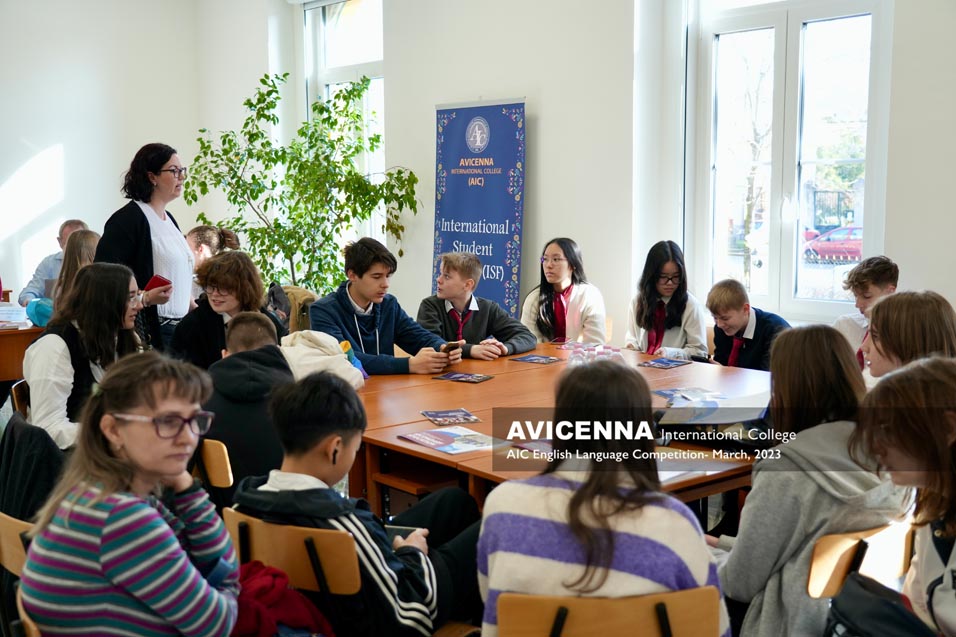 For the first time, Avicenna International College organized a two-round English Language Competition for 6th-8th grade students, with the aim of covering all primary schools in Budapest.  
The online round took place on 28 January 2023, for which 133 students registered free of charge, and the second, offline round was held on 13 March.
The 118 students from 29 secondary schools with their teachers and parents mainly from Budapest assembled in the largest ground-floor auditorium, and sat around the tables allocated to their school, waiting to be called 10 minutes before their exams. The excited students were escorted by the AIC host students to one of the examination rooms assigned to them.
The oral exam, which was taken in pairs and lasted around 20 minutes, took place in seven examination rooms, in all the classrooms on the second floor corridor. The examinations were conducted by two examiners per room. The competition consisted of a warm-up introduction followed by a discussion on the comparison of two pictures, and then a spontaneous "role play" dialogue between the two candidates on the following topics: English language learning, environment, school life, different lifestyles, leisure activities, tourism and the relationship between man and society, with a cross-cultural touch.
To lighten the serious examination atmosphere for those waiting for their turn, a "Game room", led by Avicenna host students, was set up for English games, and those who were still open to do a more informal competition in groups of three for extra awards could listen, read, talk and pantomime in the room named "Language Learning Techniques" for about 20 minutes.
Among the honorable participants were a large number of schools representing themselves, such as Csukás István Hungarian-English Bilingual Primary School in Kőbánya with 20 participants, the Pannónia German Nationality Bilingual and English Language Primary School with 14 participants, Péter Bornemisza, High School, Primary School, Elementary Art School, Kindergarten and Sports School; Diákszempont Primary School and High School; St. John Paul II Nursery, Primary and Secondary School with 11 pupils.
A wide variety of gifts and vouchers were awarded to the best students who participated in individual exams or groups competition. The trophy for the inter-school competition was won by two students from Bertalan Szemere Primary School. Other prizes included free language courses at Avicenna, a chance to join the International Summer Camp with a 84% discount and receive large scholarships in case of enrolment at Avicenna International College's Bilingual High School.
We consider the high level of interest from approx. 160 competitors and guests and the fever of preparation prior to the competition reported by many teachers and parents before and after the event, to be a great and surprising achievement.
We feel that the stagnant water has been stirred with the support of primary school students, teachers and parents, which Avicenna International College is keen to develop further, hopefully in partnership with the interested professionals!
The volume of interest shown at the first attempt explains the reason why Avicenna International College has launched this movement in the hope of making it a tradition in the long term. It has already been expressed by many that language teaching and learning development should be a public issue in Hungary, for which there is a long-lasting and widespread social demand, as some of our children spend 10-12 years learning languages without any particular results in Hungary for decades!
How can Avicenna International College alleviate these problems?
First of all, it offers Hungarian students to take advantage of the unique opportunity to study in small high school classes among 10-12 different nationalities creating an 'intimate international environment' 7-8 hours a day, where the language of communication during breaks, administration, etc. is exclusively English.
Avicenna International College knows that there is no success without effort, but that success is difficult to achieve through strenuous mental exercise. This is why Avicenna International College is offering an optional path for Hungarian students to get to know us, and its motto for the first two-round English Language Competition was 'Play with passion, compete with vigor!'
Az Avicenna International College első ízben rendezte meg az összes budapesti általános iskolákra kiterjedő Kétfordulós Angol Nyelvi Versenyt, melyre 6., 7., és 8. osztályos tanulókat invitált.  
Az első, online forduló 2023. január 28-án zajlott le, amelyre előzetesen 133 diák regisztrált ingyenesen, a második, offline fordulóra március 13-án került sor. 
A gyülekező a legnagyobb földszinti előadó teremben zajlott, ahol a 29 budapesti általános iskolából érkező 118 diák, és az őket kísérő szaktanáraik és néhány szülő előre nevükkel ellátott asztalok köré ülve várták 10 perccel korábban szólításukat a vizsgákra. Az izgatott nebulókat az AIC diákok (host student-ek) kísérték fel a számukra kijelölt termek egyikébe.
A szóbeli, kb. 20 perces verseny, melyen párban jelent meg közel 120 felső tagozatos, hét vizsgateremben zajlott, a második emeleti folyosó összes tantermében. A vizsgáztatást termenként két szaktanár végezte. A megmérettetésen a könnyed bemutatkozó után két kép összehasonlításáról beszélgettek, majd a két vizsgázó spontán "szerepjáték" (role play) párbeszéde zárta a feladatokat a következő témákról: angol nyelvoktatás, környezet, iskolai élet, életstílusok, szabadidő tevékenységek, turizmus és az ember és társadalom kapcsolata, sokféle kultúrák érintésével.
A komoly versenyzés hangulatát feloldó ún. "Game room", Avicennás diákok vezetésével működött, amely csoportos angol játékoknak adott helyet a versenyre várakozóknak, valamint akik még mindig nyitottak voltak külön díj ellenében hármas csoportokban kötetlenebb versengésre szabadidejükben, azok Nyelvi Tanulási Technikákról hallgathattak, olvashattak, beszélgethettek és pantomimezhettek a "Language Learning Techniques"-el jelzett teremben kb. 20 percen keresztül.
A tiszteletet érdemlő megjelenők közül kiemeljük a nagy létszámban magukat képviselő iskolákat, mint pl. a Kőbányai Csukás István Magyar-Angol Két Tanítási Nyelvű Általános Iskola 20 versenyzővel, a Pannónia Német Nemzetiségi Kétnyelvű és Angol Nyelvet Oktató Általános Iskola 14 fővel, a Bornemisza Péter Gimnázium, Általános Iskola, Alapfokú Művészeti Iskola, Óvoda és Sportiskola, a Diákszempont Általános Iskola és Gimnázium, valamint a Szent II. János Pál Óvoda, Általános Iskola és Gimnázium 11 fővel.
A sokféle ajándékot, vásárlási utalványt nyelvi szintenként hozták el egyénileg, illetve csoportosan a diákok. Az iskolák közötti megmérettetésért kapott serleget a Szemere Bertalan Általános Iskola két diákja nyerte nyerte el. A további nyeremények között szerepelnek ingyenes nyelvtanfolyamok az Avicennában, nagy összeggel támogatott Nemzetközi Nyári Táborban való részvételi lehetőség és az Avicenna International College Magyar-Angol Két Tanítási Nyelvű Gimnáziumába való jelentkezés esetén nagy ösztöndíjak.
A nagy létszámú érdeklődést, 160 diák és kísérőjük, valamint a versenyt megelőző felkészítési lázat, melyről nem egy szaktanár és szülő számolt be előre és utólag, nagyszerű és meglepő eredménynek tartjuk. 
Úgy érezzük, a régóta jellemző állóvíz megmozdult az általános iskolás diákok, tanárok és szülők támogatásával, melynek továbbfejlesztését az Avicenna International College szívügyének érzi, azonban most már reményeink szerint karöltve az érdeklődést mutató szakma képviselőivel!
Miért is indította el az Avicenna International College ezt a mozgalmat, melyből akár tradíció is válhat, hiszen már az első próbálkozáskor megmutatkozó érdeklődés volumene ezt engedi sejtetni? 
Már sokak által megfogalmazódott, hogy Magyarországon a nyelvtanítás és nyelvtanulás fejlesztésének kérdése közügy kéne hogy legyen, melyre hosszantartó és széleskörű társadalmi igény mutatkozik, hiszen az a tény, hogy gyermekeink egy része 10-12 évet is eltölt különösebb eredmény nélkül nyelvtanulással, több évtizede kiállt megoldásért Magyarországon! 
Hogyan tud az Avicenna International College a fenti problémákon enyhíteni?
Elsősorban felajánlja, hogy a gimnáziumi részlegén 10-12 féle nemzetiség között tanulni vágyó magyar diákok nem nagy létszámú osztályokban kihasználják azt az egyedi adottságot, hogy az itt tanuló diákok naponta "kis nemzetközi" környezetet teremtve 7-8 órát tölthetnek el úgy, hogy a kommunikáció nyelve a szünetekben, ügyintézések közben is stb. kizárólagosan angol.
Ezen felül a szakmai kihívások megválaszolását tennénk lehetővé megfelelő rendezvények szervezésével a továbbiakban, természetesen előre egyeztetve az érdeklődő érintettek javaslataival, igényeivel.
Az Avicenna International College tudja, hogy erőfeszítés nélkül nincs siker, azonban a sikert megfeszített erőlködéssel nehéz elérni. Ehhez ajánl választható utat a minket megismerő magyar diákok számára is, valamint ezért tűzte az első kétfordulós Angol Nyelvi Verseny jelszavául az Avicenna International College:
"Játssz lelkesen, versenyezz komolyan!"