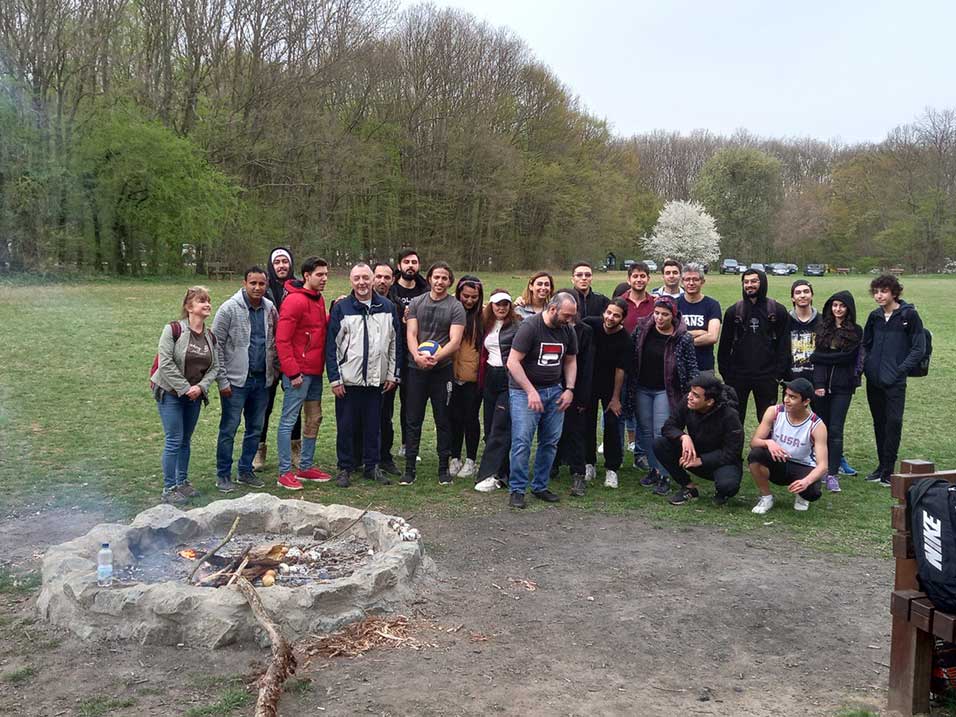 Hungarians celebrate several cultural occasions which may or may not be familiar to you. So, when we have a long weekend, public services are limited and you have not prepared according to a plan, it could be tricky and even a problem how to fill the days and where to go to enjoy yourself.
For this reason, we at AIC decided to offer the students a trip to nature on "Good Friday", one day before Easter. Accordingly, both the EFP group students who prefered having a barbecue and the High School students who felt like going on an excursion in the forest set off together from Széll Kálmán Square to Budakeszi, one of the most beautiful woods in the Buda Hills.
After the 20 minutes journey by bus, the group splitted up and the twenty EFP students joined their beloved teacher, Mr Milutin, at the bus station waiting for them with food and equipment to make a bonfire. The basic ingredient of the menu was a hot dog with jacket potato roasted in ash. While the goodies were done, some of the students played football, or badminton and the others told anecdotes around the fire.
In the meantime, the more sporty and adventurous ones started their 11 km trip in the forest. Even though the woods were filled with the constant laughter of the high school students, some of them could spot three young deers running above the hillside. After playing football on a plateau covered with rocky outcrops and wonderfully protected spring flowers, we couldn't help but listen to the "sound of silence". We realized how much we were recharged not only by fresh air, but also by the smell of the forest, the singing of the birds, and the buzzing of the bugs.
All in all, when it started to rain it was an unambiguous signal to all of us that as good as the day had been, it was time to return home in the afternoon enriched with a variety of different experiences. We all look forward to revisiting the beautiful and clean nature of Budapest and beyond.
Date: April 15, 2022.
Meeting time: 9:40 am.
Meeting venue: Széll Kálmán Square, at the entrance of M2 (red metro line), Budapest.
Journey: bus 22 (approximately 20 minutes).
Destination: Budakeszi, Szanatórium street (near Budakeszi Game Park).
Return time: 16:30 (Széll Kálmán Square).
Number of students: 26 (Foundation and High School).