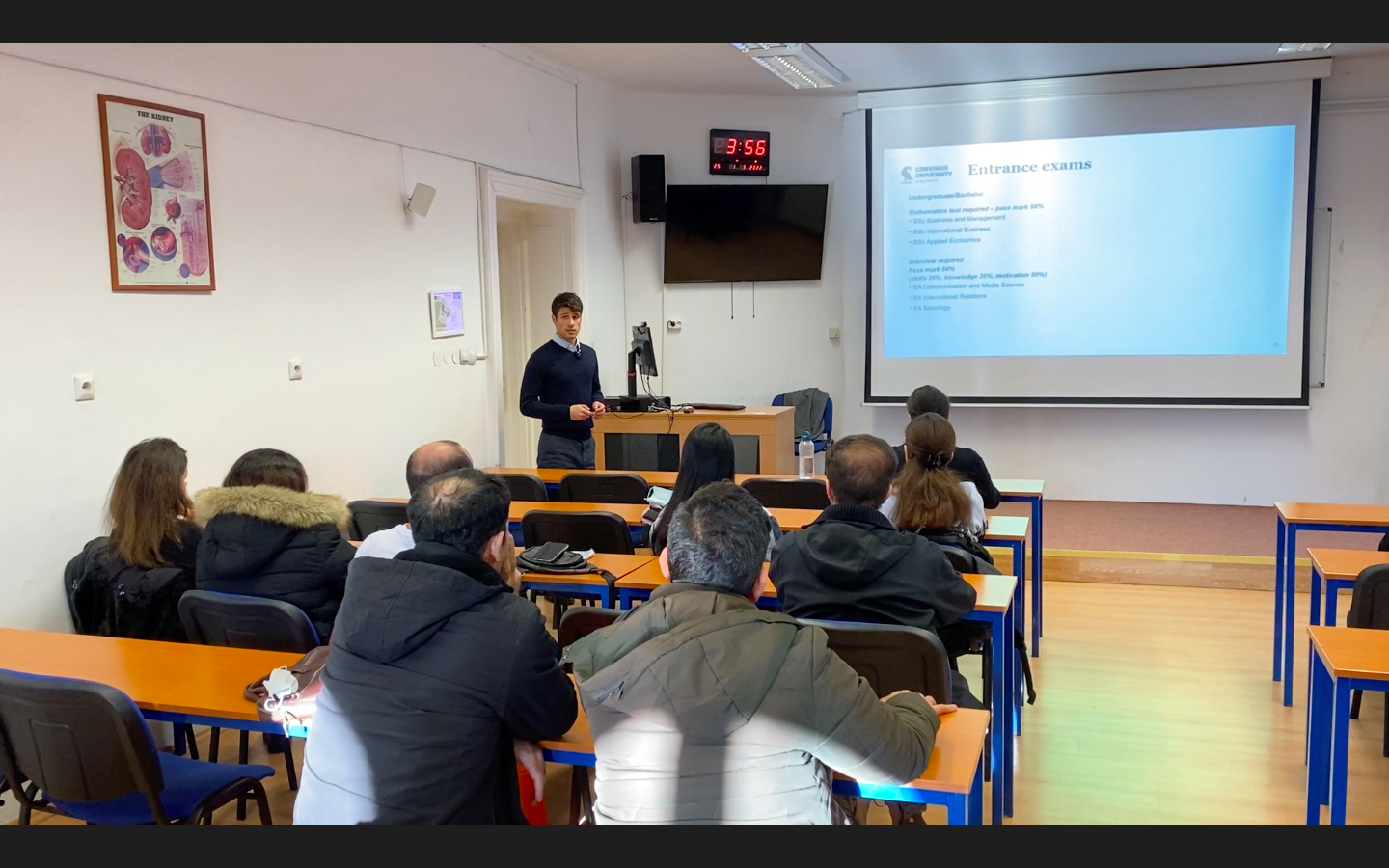 On the 1st of March 2022, AIC had the pleasure to welcome Mr Matt Jansen, Director of International Student Recruitment at Corvinus University on our campus in Budapest. The director introduced Corvinus University to the audience of our interested foundation programme and high school students.
Corvinus is an outstanding partner for us to provide unparalleled progression possibilities for our recent and prospective students wishing to pursue business studies at university.
There are 12,000 students studying at Corvinus, 2,000 of them are international students coming from 70+ nationalities. Corvinus is in the top 300 universities in the world (QS World rankings, 2021) and offers high-quality courses in Business and Management, Economics and Social Sciences. Corvinus is an AMBA-accredited Business institution and a CEMS member in Hungary with 120+ years of history, having 296 partner universities worldwide.
There is a wide range of Postgraduate/ Master and Undergraduate/Bachelor programmes offered by Corvinus. As for the PG programmes:
Business Informatics
Communication and Media Studies
Economic Analysis
Economics of Family Policy and Public Policies for Human Development
Finance
Health Policy, Planning and Financing
International Economy and Business can be mentioned
As for the UG programmes:
BSc Business and Management (double degree)
BSc International Business
BSc Applied Economics (double degree)
BA Communication and Media Science
BA International Relations
BA Sociology September
Double Degrees allow the students to earn a second degree from partners in Australia, China, France, Germany, Italy, Netherlands and the UK (!) for self-funded students while studying at Corvinus in Budapest. They can also spend a semester overseas with the help of 296 ERASMUS+ partner institutions.
2022 programmes are available for 3 years at €3,490 – €6,400 per year. Application deadline:
15 May 2022
AIC is happy to host the leadership of Corvinus for a Signing Ceremony in late March on our
Campus.