The INTERNATIONAL NUMISMATIC COLLECTORS FESTIVAL is organized by the HUNGARIAN NUMISMATIC COLLECTORS SOCIETY in
cooperation with Avicenna Holding, Hungarian Mint Ltd. and Procopius Numizmatika in 2023.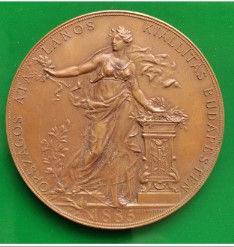 At the meeting, which is held once a year,we expect foreign interested parties in addition to domestic medal collectors.
At the meeting, interested parties can discuss all topics of numismatics. Thus, in addition to the money of the ancient world ( Egyptian, Greek, Roman),
the historical coins and banknotes of Hungary can be found as well. Last but not least, the old and new minted metal coins of Transylvania and also the
international banknotes will be seen at the festival.
As part of numismatics:
– commemorative medals,
– plaques,
– civil and military awards,
– stocks and medals,
– FILA commemorative envelopes,
– coins and banknotes of the EURO money history
are lined up at the meeting to win over those interested in numismatics.
It will also be exciting to discover the world of old shares, most of which show a
very high level of graphic design and have resulted in sophisticated printing
products around the world.
Those arriving at the site by vehicle have the option of free parking on Diószegi
Sámuel Street.
The buffet operated by the organizers also helps the success of the program.
Discounted accommodation can be requested for our guests coming from
abroad.
Information – contact: ermesprojekt@gmail.com + 36 30 424 7537